Here is a proposal for renovating an older existing shopping center located in San Jose, California.  Named El Paseo de Saratoga, it stands at a major crossroads in the South Bay, straddling the boundaries of San Jose and Saratoga.  Bounded by Quito Road, Saratoga Avenue, W. Campbell Avenue, & Prospect Road, this aging retail center would experience a major revitalization with these plans.  The Architect for the retail element of this project is Kenneth Rodrigues + Partners of Mountain View, California.  I worked with Ken closely in the conceptual stage of the design in February 2020 to produce these first two color renderings.  The perspective views we chose basically showed the main retail corridor-a walking street-from both ends.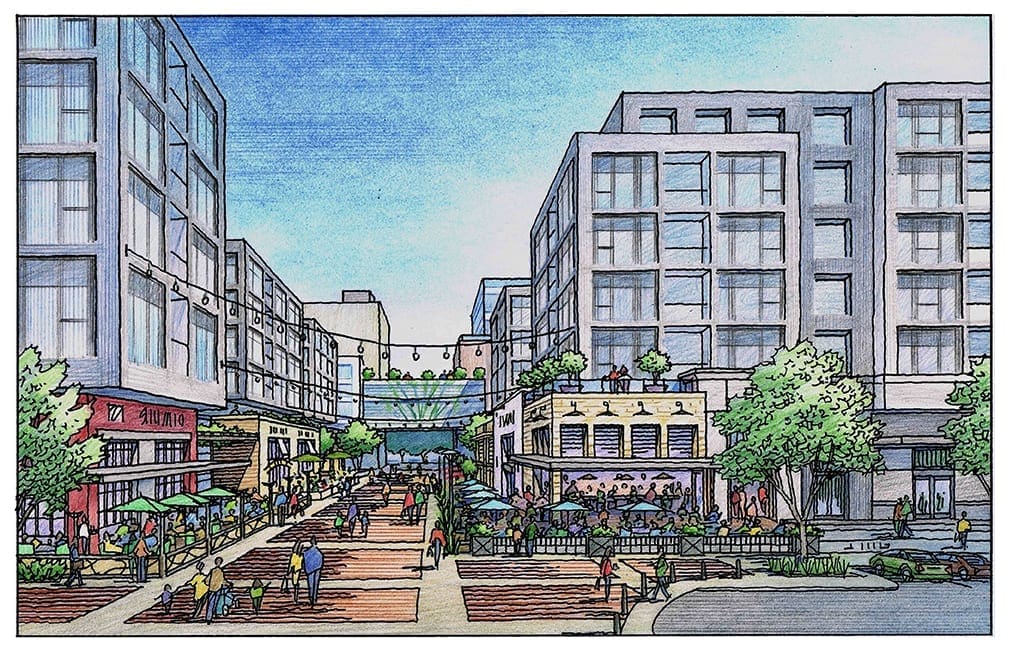 The first view shown here looks through the retail corridor which has an overhead bridge about midway which separates the commercial and retail from the institutional element beyond in the view-the west coast Whittle School, which is a private K-10 educational facility with an established campus on the east coast in Washington, DC.  The idea is to create a living community with full services right there, making day to day life more convenient and less dependent on transportation.  Much of the space above the retail is offices, so within this development, you would have a school, restaurants and shops, offices, and residences.  Ken and I chose to show lots of variation and interest in the retail storefronts with different heights, textures, and colors-and lots of outdoor dining, lighting, and landscape.  The architecture of the offices above, on the other hand, was a mere suggestion at this point.  This approach works because although accurate in scale and number of stories, the exterior design was not fully worked out yet by the associated architect for that portion of the project.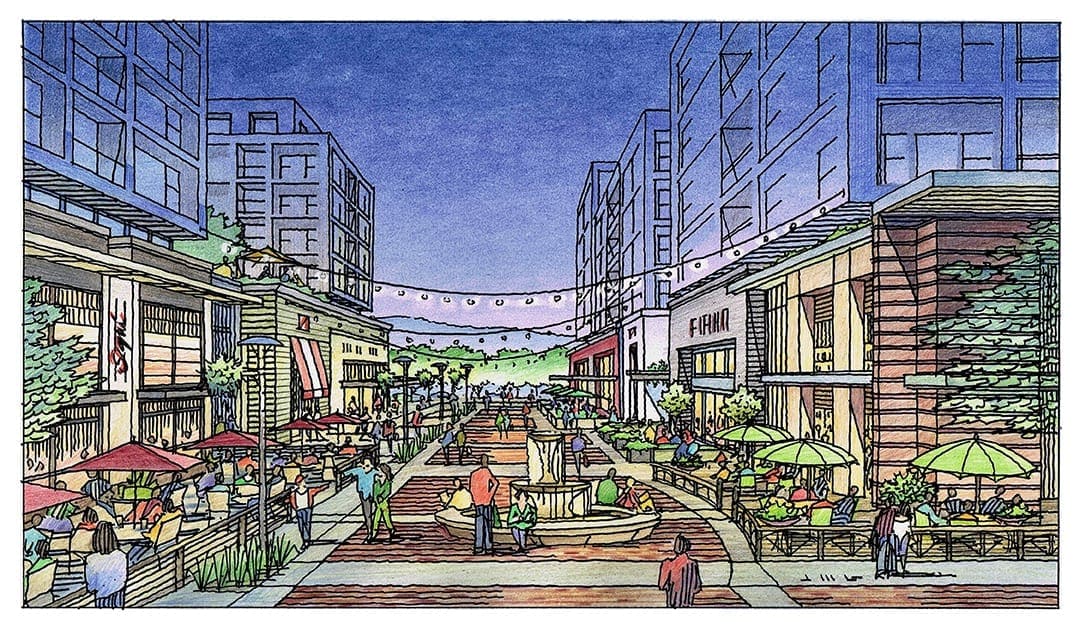 The second view shown here is the companion rendering, which shows the project from the other direction, with the Whittle School and bridge just behind us and not visible.  The artistic license was taken even further here by showing the project at twilight, when there would be an even greater emphasis on the lively restaurant and retail atmosphere, and less on the offices above.  Interesting how the upper stories seem to almost dissolve into the twilight sky-that's the fun part of being an artist !
804 Verbena Avenue
Chico, CA 95926
Phone:  (530) 774-2447
Cell:  (530) 205-8223