Here is one of three color illustrations I created in February 2020 for a project proposed for Redwood City, California.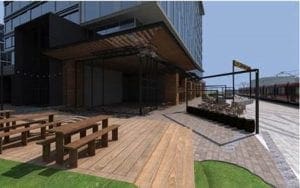 My client was Lowe Real Estate of California, a development firm located in Oakland, California.  Lowe had been using some digital images–computer-generated renderings–to promote and describe their project.  I have included that image here for reference.  The location of the building is adjacent to the Redwood City CalTrain Station and platform.  My challenge was to show the new development as a lively, busy, and entertaining space–mostly outside of the building in the plaza and platform area you see here in the digital photo.  The client wanted the retail establishment to be a brewery/restaurant or coffee house/restaurant with ample outdoor seating and dining.  So I started by drawing an overlay on tracing paper to add the entourage–people, furniture, landscape, signage–that would achieve their goals.  Below on the right is that overlay….with notes to explain my ideas for the final…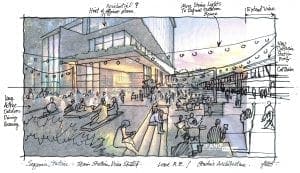 With approval of this sketch overlay and any modifications, my next job is to trace over this layout to create a final black and white line drawing.  Once this is completed, I send it to the client via email for their approval and/or comments….At this stage, it's basically the final rendering–just not colored yet.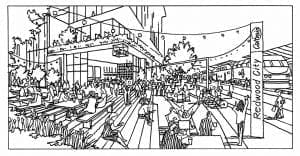 Usually changes are minimal, and the client and I discuss color and materials for the final coloring.  I make a print of the final black and white line drawing, and I apply color to it–either color pencil or watercolor.  In this particular case it is color pencil, with some pastel for the sky and underlayer. When the color is complete on the original, I make a color scan of the rendering at 300 dpi, usually in jpg format, and send this to the client via email as an attachment.  The client can then use the file I send to incorporate into a presentation, or print for public display.